Everyone in the country is on edge these days.
Isolation tends to have a negative impact on people's emotions.
Humans will only take the burden of being forced into isolation for so long.
Sadly, when the government encourages people to rat on each other, it only makes things worse.
Many Idahoans were furious about an Idaho Department of Health and Welfare (H&W) form that encouraged us to do just that.
Thankfully, a number of Idaho's Representatives reached out to the Department to demand answers. We want to thanks Rep. Nichols, Kingsley, Dixon, Christensen, Scott, and others who stood against Nazi-style tattle-telling programs in Idaho.
This was the form the H&W Department posted: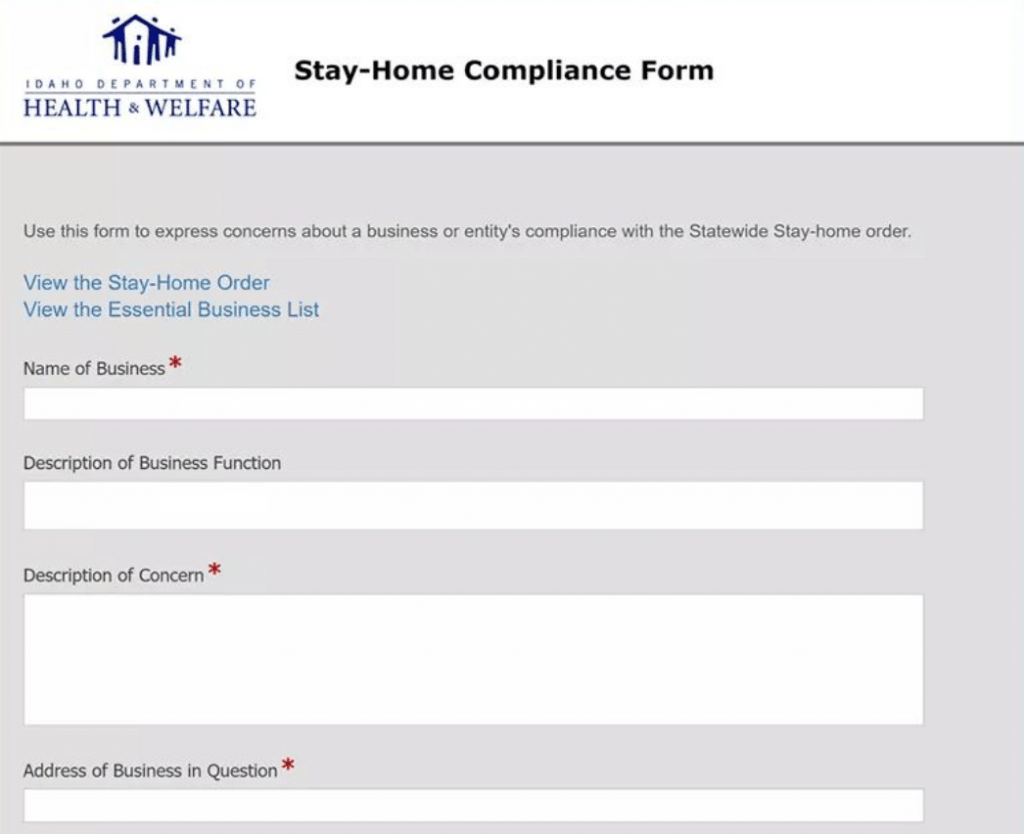 Unfortunately, it wasn't an April Fool's Day joke. It was very real.
Of course, Idahoans wasted no time in posting bogus claims in the form. Most of them turned in the H&W Department for being in violation of the constitution.
However, you have to wonder why they felt it was okay to post the form in the first place.
Our hope is that Governor Little will find out who decided to put this form online.
Perhaps, the form was created based on the Idaho Attorney General's Office recommendations?
Soon after the H&W's form started circulating, a number of people posted a link to the AG's "Frequently Asked Questions" guidelines about the Governor's "stay-at-home" order.
You can see the guidelines here: https://www.ag.idaho.gov/content/uploads/2020/03/FAQs-Idahos-Stay-at-Home-Order.pdf
The specific paragraph you'll want to look at is item #3.

So, not only is the AG's office simply telling people their office doesn't have the authority to enforce the order, they are encouraging citizens to turn on one another for violations.
Are the AG's guidelines here where the H&W department got the idea to rat on each other in the first place?
Since when did Idaho become a place where we turn on one another?
If the police are going to patrol neighborhoods to enforce the stay-at-home order, that is what they will do. However, why are we going to encourage people to turn their neithbors in and make it worse?
This is a recipe for abuse and most certainly a recipe for disaster.
We are already seeing civil unrest in countries because citizens are growing weary of government lockdowns.
Now, we are going to "Red Flag" each other for alleged violations?
Most Idahoans are strongly opposed to Red Flag laws. We have warned people that such laws are ripe for abuse, not to mention the constitutional violations.
While the AG's suggestion is not a "Red Flag" law where your firearms will be confiscated, it does mirror the abuse that will take place.
Under a Red Flag law, someone who knows you turns you in for allegedly being a danger to yourself or others.
It is their word against yours.
Under these guidelines, the police will get anonymous tips from your angry neighbor that you have made some violation of the stay-at-home order.
No evidence will be required other than their complaint.
This will create more tension in our neighborhoods and communities. This tension will push people into desperate situations.
While the AG's office is certainly correct that they don't have any legal authority to enforce the order themselves, that's where they should have left their statement.
By encouraging people to tell on each other, they are going to make the situation worse.
If you wish to contact the Attorney General's office and voice your opposition to their guidelines, the phone number is 208-334-2400.