Gregory Graf, a top political mercenary and self-proclaimed FBI informant, spins a lot of tall tales in his own mind. 
For example, Graf believes he has close ties with Idaho House Speaker Scott Bedke, a Republican from Oakley. Bedke says otherwise. 
Graf also says state Rep. Chad Christensen is a sexual predator. Graf provides no evidence to back up this allegation and Christensen vigorously denies it.  
On top of that, Graf says that more than 20 Idaho conservative lawmakers are part of a far-right network that participates in some form of "organized crime." Once again Graf provides no evidence for this serious allegation and lawmakers we have spoken to deny they have committed any crimes. 
So, it's little surprise that Graf spewed a very serious allegation against Doyle Beck, a top activist, and donor. 
In a phone call with state Rep. Chad Christensen's private employer, Graf falsely claims that Beck funneled nearly $250,000 to the owner of a tomato paste production company in California. That guy, Graf alleges, then gave the money to Young Americans for Liberty. 
If it happened, that would be a felony. Here is Graf making this allegation:
The problem for Graf is that, well, it didn't. Beck never moved the money or made such a donation. 
Here's what Beck told Keep Idaho Free: 
I've had nothing to do with providing money to a third party who somehow directed that money to support Chad Christensen or his campaign.  I don't know what Mr. Graf is even talking about.  Mr. Graf's accusation against me accuses me of a crime.  This accusation against me is not only false but also defamatory per se.  I am having my attorneys consider legal options for clearing my good name.
So, another day, another lie for Gregory Graf, who goes to extraordinary lengths to try to punish his political enemies. 
This smear by Graf is just the latest salvo in the war between Beck and Graf. A few years ago, Beck filed a lawsuit against five "John Does" trying to determine who was running IdahoConservatives.com that had the article defaming him.
At the time no one knew exactly who ran the site because everything was anonymous. Beck decided to file the lawsuit and suspected Graf was behind it all.
In a deposition, Graf had to admit that he was behind the article and the website. Afterward, Beck said that once they knew who was officially behind IdahoConservatives.com they dropped the suit without prejudice retaining their right to sue in the future.. 
However, Graf tells Christensen's private employer that Beck lost the challenge and that he defeated Beck in court. Of course, that's not what actually happened. Here's Graf's telling of that story:
Perhaps Graf is upset with Beck because Graf believes principled conservatives are loyal to Beck and not Idaho's political establishment — of which Graf ordains himself a member.
It wasn't the first time that Graf was caught in a lie about his involvement with IdahoConservatives.com.
One commenter named John Henager actually called out Graf on the "Idaho Conservatives" Facebook page asked Graf if it was him commenting as "Idaho Conservatives." Graf then takes a shot at himself by calling himself an "asshole."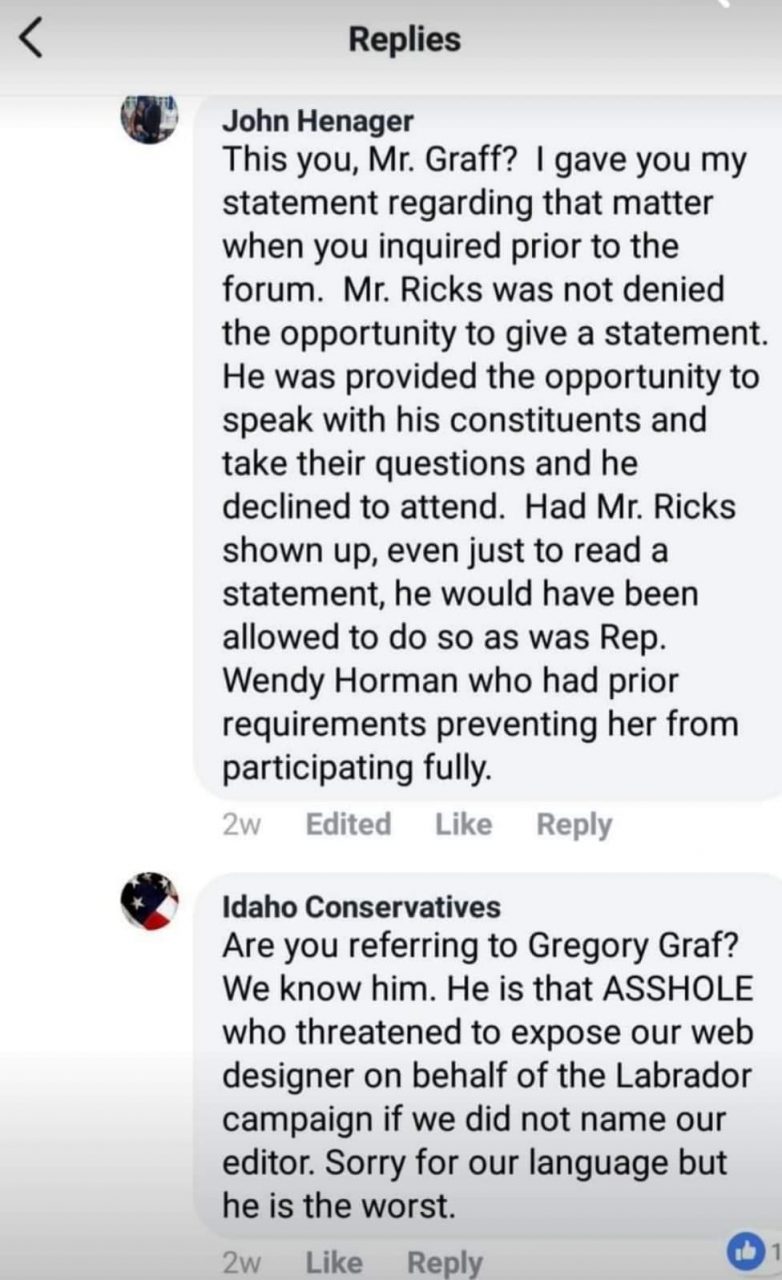 "He is the worst." Well, at least Graf told the truth about something.
Returning to Young Americans for Liberty, Graf claims that YAL doesn't "play in primaries" meaning when there is a primary election in the state, YAL doesn't get involved. Graf claims they only get involved during the general election to support Republicans.
Yet this lie falls apart when you learn what YAL had really done.
YAL started getting involved in primaries in 2018 and has been involved in primaries the last two election cycles in 30 states! They have helped more than 100 candidates in the last two election cycles during the primaries.
After listening to this audio numerous times and trying to piece together all of Graf's lies, I had to wonder if there was anything in this phone call that was true. Perhaps Graf was just going all-in to toot his own horn to get Christensen fired and smear his other political opponents.
We hope that you have learned as much as we have through this four-part series on how someone with the high level of narcissism as Graf has that they will go to great lengths to destroy conservatives. Jennifer Ellis and Graf's plot to get Christensen fired through a gun-free zone shows you to what depths some in the political establishment will go to try and take someone down.
So, the next time you see yet another smear from Graf, Jennifer Ellis, Stephanie Mickelson, or anyone associated with "IdahoConservatives.com" you know it is false, desperate, and the work of people who like liberals, not conservatives.