On Wednesday, Gov. Brad Little made a statement that made many Republicans nervous.
He was speaking at an event with the local Idaho press and was answering a variety of questions.
One question was about bills being introduced in Idaho regarding "transgender" issues.
One of those bills, HB 500, would ban boys, regardless of how they identify themselves, from playing in girls sports.
Gov. Little responded, "I don't think we ought to be sending signals that we're intolerant in Idaho. That's my personal position."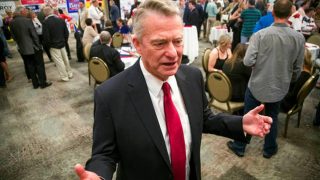 Is it Gov. Little's opinion that protecting girls sports is bigotry?
Additionally, Gov. Little seemed to take the side of some who testified against HB 500 that it wasn't an issue in Idaho.
He seemed to agree that the bills appeared to be reactionary to what is happening in other states.
He also said, "I am not a big discrimination guy." It is unclear whether this also means that he may veto HB 500 or other bills dealing with transgender issues. Perhaps he can explain how boys playing in girls sports isn't discrimination!
One thing is for certain, the vast majority of Idahoans don't want to deal with these issues AFTER they become a problem.
Idahoans want the legislature and Gov. Little to take action now, not later.
Idahoans want to ensure that women's sports are protected.
Even a lifelong Democrat spoke in favor of banning boys from girls sports.
Americans are fed up with the radical left's agenda to destroy our identities as human beings and as families.
Additionally, Americans are tired of having the radical progressive agenda shoved down their throats and being ridiculed for fighting back against it.
The Idaho legislature has before it three bills this session that deal with issues that have become problems in other states.
For now, it will be interesting to see what Gov. Little will do if these bills make it to his desk.