It seems each new day we hear of more people across the country being cited, fined, or handcuffed for violating a "stay-at-home" order.
Even here in Idaho, we have had our share of government entities pushing Nazi-style outing of friends and neighbors.
Last week, the Idaho Department of Health & Welfare came under heavy scrutiny for a form on their website. The form encouraged citizens to report individuals or businesses for violations.
Then, the Attorney General's website said to do the same.
Thankfully, both the AG and Health & Welfare Department took their suggestions down.
Now, new radical left Mayor Lauren McLean is encouraging citizens to turn one another in!
McLean, a major supporter of abortion and gun control, has been live on Facebook numerous times telling people how to live their lives.
Recently, McLean posted a video showing people how they should walk when they are outside.
At the beginning of the video, McLean and her daughter show how far apart people should be while social distancing. Then she explains in the video what you must do should you pass someone while walking.
So, the Mayor explaining the proper way to social distance is all well and good.
However, the final part of the video McLean decides to tell people that if they are going to rat on each other, to use the non-emergency number.
First, take a look at the post itself.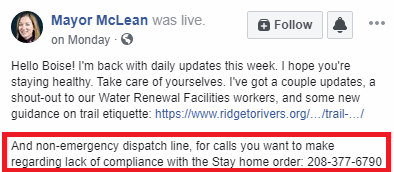 Below we have clipped the very end of the video.
In the last part of it, she explains what people should do if they observe violations.
We are hearing from the McLean supporters that she was taken out of context. Listen for yourself and decide.
Now, based on our observation of her words, she clearly meant to tell people to report violations.
If they chose to turn someone in, they need to use the police's non-emergency dispatch.
Sadly, this wasn't the only thing Mayor McLean did. She also posted an image with the Ada County Dispatch's phone number.
The image, like her video, encouraged people to call the number to report violations.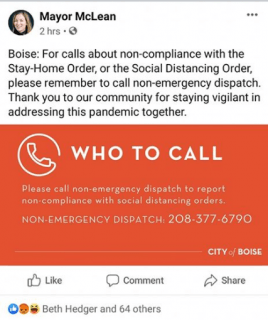 After a number of citizens spoke out against the post, it was removed from her Mayoral Facebook page.
What is it with government officials that they believe we should act in this manner?
Unfortunately, this is likely not going to be the last we hear of people in power in Idaho encouraging the betrayal of your neighbors.
Do you think Mayor McLean encouraged people to turn on one another? Let us know in the comments below.
Finally, be sure to Subscribe to our new YouTube channel!