Black Lives Matter (BLM) and Antifa rioters have been going to neighborhoods and bringing their chaos in the middle of the night to wake people up.
We have already seen this in places like Seattle and Portland. Other BLM individuals have done it in other states as well.
For months they have been threatening to disrupt people's lives and do what they can to bully people into complying with their demands.
Now, BLM – Boise and other leftists drew chalk outside of four Boise city councilmember's homes because they increased the Boise police budget. 
Not only that, but at City Councilmember TJ Thomson's home, they went onto his property and drew on his driveway.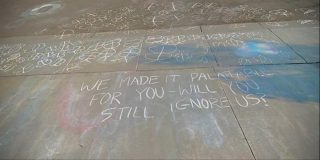 These radical leftists will say, "It's only chalk." The fact that they were willing to go onto someone else's property and do something to their property without permission will escape their limited brain capacities.
Of course, this isn't the first time these radicals have disrupted Idaho elected officials at their homes.
Recently, several radicals such as Samantha Lee Hager protested outside the home of City Councilmember Elaine Clegg. They drew dead body outlines in chalk with fake blood and disrupted the entire neighborhood with chanting and a bullhorn siren.
Hager runs a pathetic leftist page known as "Peaceful Roots of Change." Naturally, all leftist groups claim to be "peaceful" until they decide that violence is needed to try and get what they want.
They were already willing to go onto private property for their demonstration.
Just ask the people in Portland and Seattle how that "peaceful" stuff is going. It's chaos in those towns and private property has been destroyed and people have been killed by so-called "peaceful" people.
Here is a picture of Hager's recent shenanigans: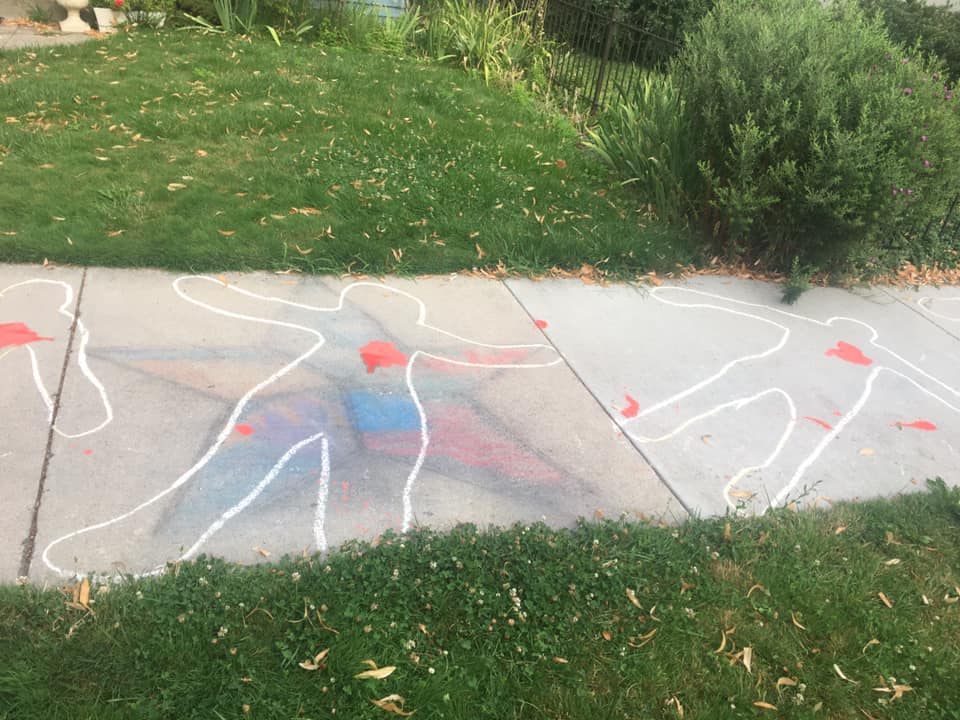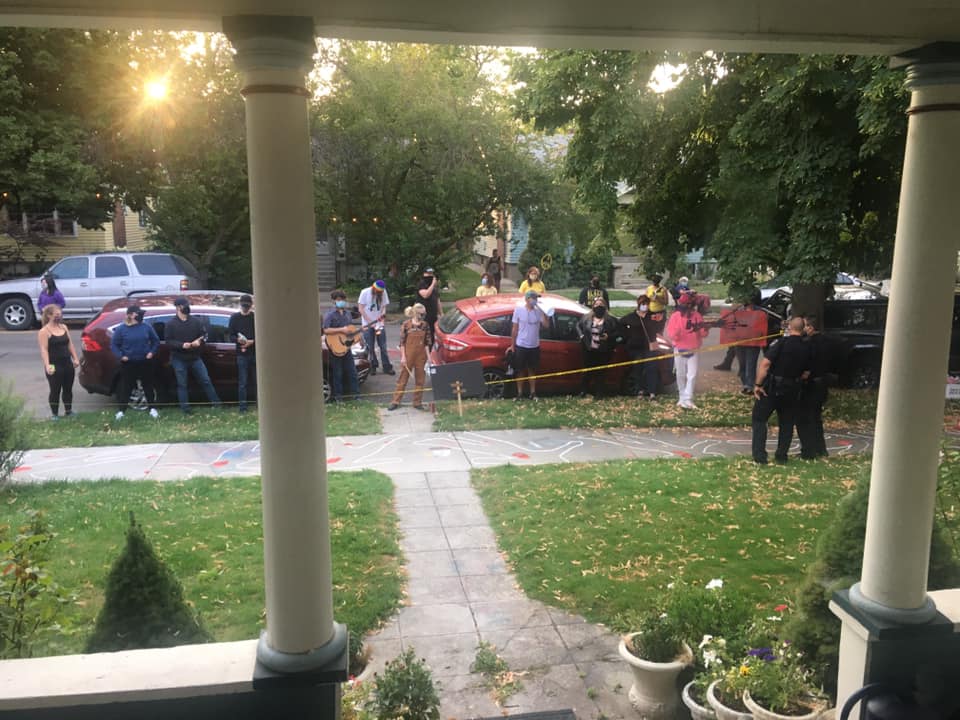 This is what Boise City Council President Elaine Clegg had to say about the incident,
This morning my house was the subject of a protest. We all inherited a system of policies that have resulted in racial inequity. For the last seventeen years I have worked to support a move to community policing in Boise and fully support the addition of a new mental health unit in BPD in this year's budget. I have also brought forward, supported and funded policies that help citizens experiencing homelessness and other housing deficiencies. Some folks think that's not enough and that it was okay to wake up my neighborhood at 7:00 AM with a bull horn and police like siren and with drumming and chanting accompanied by chalk figures and blood.
Hager is currently running for state legislature for the Democrat Party in Meridian and will be taking on Rep. James Holtzclaw this November. A recent post by Hager: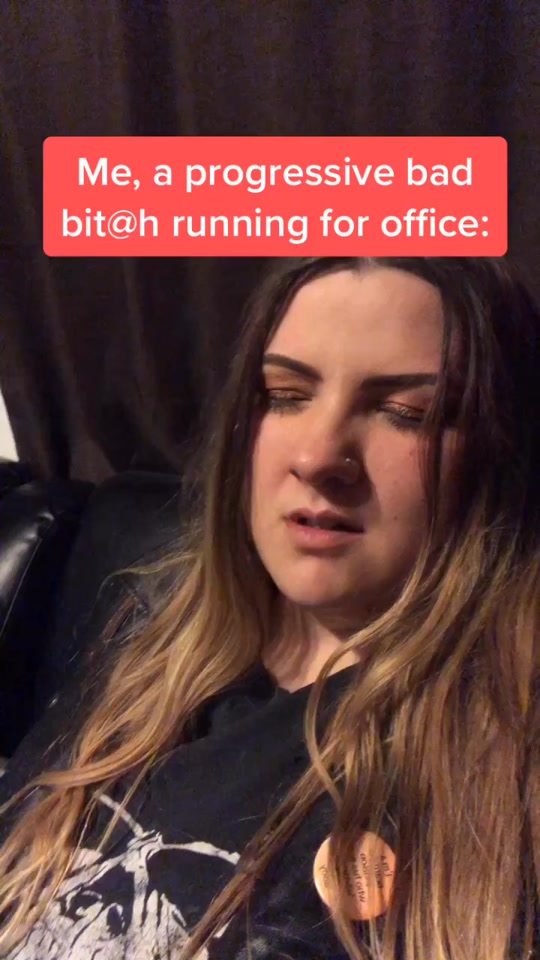 Well, she seems lovely and she'll represent Idahoans really well right? 
Now, BLM – Boise, Hager, and other leftist lunatics bumped up their timeline for their cowardly "protest" because their initial plan was exposed.
We say "initial plan" because someone in the BLM – Boise organization leaked the details of the "protest" they had planned on doing. Because that plan was outed, they decided to go in late last night for their demonstration.
Here is the image that was circulating social media with BLM's initial plan: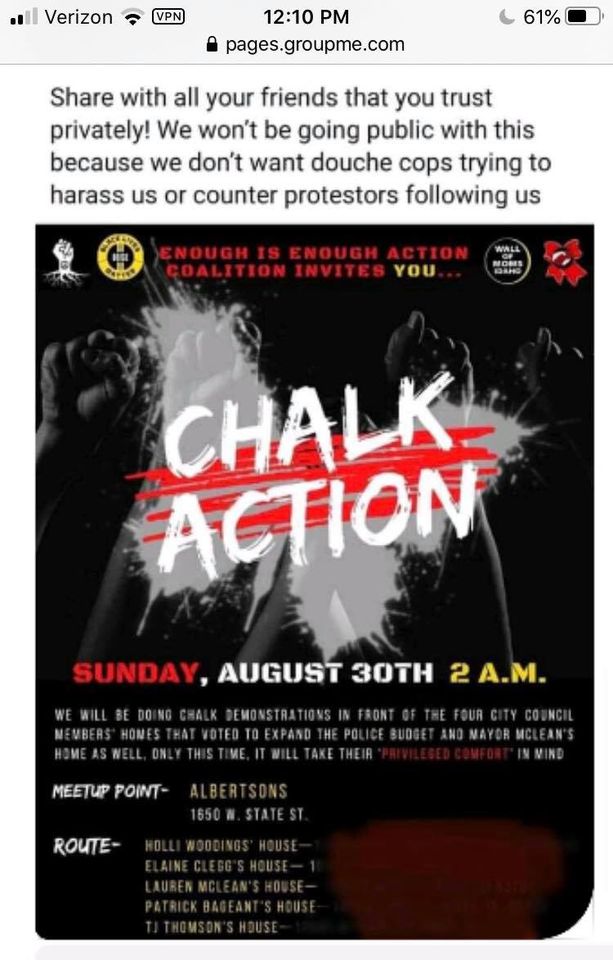 Notice how they said they were deliberately going in the middle of the night so that they weren't bothered by "douche cops" or "counter-protesters?"
Like true cowards, they did it when no one would see them, or no one would call them out for their actions. They should feel so proud of themselves for such bravery.
How long before chalk demonstrations aren't enough?
How long before they aren't peaceful anymore because they feel they are being ignored? Perhaps they should realize they are even being ignored by Democrat city councilmembers because even they realize that "defunding the police" isn't something many Democrats in Idaho don't want to do.