A new bill introduced by Rep. Barbara Ehardt (Republican – Idaho Falls) would limit biological high school boys from competing in high school girls' sports and vice versa.
Let the label lynching and "cancel culture" from the left begin.
Radical progressives have launched a smear campaign to try and paint Rep. Ehardt as "transphobic."
In typical leftist fashion, they want Rep. Ehardt to resign.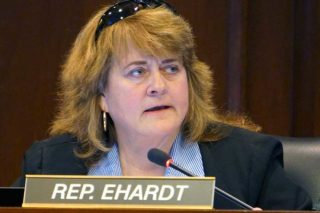 Some are going to claim that Idaho doesn't need such a bill. They claim that Idaho has bigger things to worry about.
If you want to keep Idaho free however, these are the types of issues that you have to defeat now, not after they become a problem.
It's time for Idaho to begin preempting these radical progressive ideas.
Males have distinct physical advantages. These advantages have already been exploited in other states.
Men are breaking women's records in track and "winning" championships they would never win if competing with other males.
Where are the radical feminists on this issue?
What better way to protect women than preventing men from dominating their sports in unfair competition?
Rep. Ehardt should be applauded for her efforts to protect women's sports.
We call on the Idaho legislature to pass Rep. Ehardt's legislation and for all Idahoans to contact their legislators and let them know they support Rep. Ehardt's efforts.