Michael Bloomberg isn't the only Democrat Presidential candidate dipping their toes into Idaho.
Now, another Presidential candidate has Idaho on their radar and is going to be visiting Boise according to KTVB News Channel 7.
That candidate? Former South Bend Indiana Mayor Pete Buttigieg.
Buttigieg has been trying to make himself look like a moderate. He is anything but a moderate.
The openly-gay candidate has pushed radical gun control, radical environmental regulations, radical tax and spending increases, and more.
There really isn't a "moderate" in the Democrat field despite their best efforts to claim as much.
Idaho's Democrat Primary election is on March 10th, 2020.
Buttigieg intends to visit Boise sometime in March before the primary election in a bid to take down Bernie Sanders as the front runner for the Democrat nomination.
The cost to get into the even will be $100.
However, his odds of taking down Sanders is looking pretty bleak. Sanders is the front runner in most of the "Super Tuesday" states on March 3rd.
Buttigieg may not even make it past that date if he is swept by Sanders.
Despite the low odds of winning the Democrat Presidential Primary, Buttigieg has a big endorsement from Idaho.
Boise's newly elected leftist Mayor Lauren McLean has endorsed the former South Bend, Indiana mayor.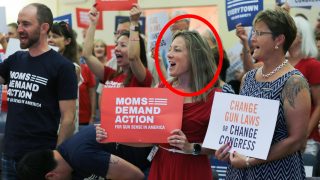 McLean is a major proponent of gun control. She even attends rallies with Moms Demand Action.
Additionally, McLean is a big supporter of Planned Parenthood.
So, it is no surprise then that she would endorse another radical mayor from the midwest.
McLean's endorsement of Buttigieg is unlikely to change the course of the race.
Bernie Sanders and Michael Bloomberg are likely the only two remaining candidates with any real chance of winning the nomination.
Do you intend to go to the Pete Buttigieg event? Let us know in the comments below!